PA006441 | ProfiTap Industrial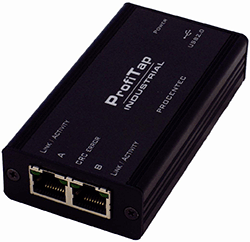 For more information and to request a quote, please complete the contact form below.
General Description
ProfiTap Industrial is an interface to perform monitoring on PROFINET networks. It is an essential tool for PROFINET engineering activities, especially to verify the connections and performance of IRT and other real-time applications.

The monitor port of switches is unreliable for monitoring; it can be occupied or is not forwarding all traffic. The load on the Ethernet port of the laptop is also too high with IRT applications because 2 channels are merged in one. The ProfiTap has a USB link with the laptop that streams the captured messages to the accompanying driver, which emulates an additional Ethernet port on the laptop and hands the messages over to any application.

The ProfiTap also prevents the laptop to send out messages on its own initiative, which could jeopardize the real-time behaviour and security of the network.
Usable for most PROFINET/Ethernet monitoring tools
No loss of messages
Time stamped messages
Does not endanger the real-time behaviour
No security hazards
Is not visible for switches/devices
Grounding concept is not disturbed
Driver works on XP, Vista and Window 7 platforms
Order code 513-00011A (PA006441)
Downloads
Brochure
Manual